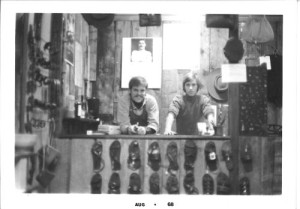 Phantasmagoria helped transform The Hill – By Carol Taylor
A broken leg kept him from the Vietnam War. Instead, the young and idealistic college graduate opened a shop on The Hill that would define the times in Boulder.
With a degree in history from the University of Colorado, Lawrence "Lawry" Covell was considering graduate school to avoid the draft in 1966. One day at The Sink, he came across an article in Time Magazine about the new trend of "head" shops. This sounded better than getting a real job, he thought.
After receiving a permanent medical deferment from the draft, Covell opened a small store in 1967 at 1310 College. He named it Phantasmagoria after thumbing through the dictionary and pinpointing a word that seemed to fit what he had in mind: phantasmagoria n. a rapidly shifting scene of real or imagined figures.
Such was The Hill in Boulder in the late 1960s.
Covell recently took time out to reflect on the Phantasmagoria days in Boulder.
"Boulder was a crossroads with young people traveling through from all over the country. The music was changing, style of dress. Everything. And we were in the middle of it," Covell wrote in an email interview.
At that time, The Hill featured several preppy stores including Kinsley & Co. and The Regiment. But a new generation was coming of age.
Covell was dating Cathy Smith and she began working at Phantasmagoria while continuing her history studies at CU. They married and the two still work together every day as owners of the Lawrence Covell clothing store in Cherry Creek.
Cathy's brother, Ezra, had been making leather items and they added those to the mix of merchandise. Phantasmagoria became known for selling the hippest leather goods around including sandals, watchbands, belts and vests. The small group of employees learned how to craft the accessories on the job.
"You learn very quickly when your livelihood depends on it. The first day was very exciting. We probably only did about $25 in business. But it was a start," Covell said.
"I can remember it just like it was yesterday," said Boulder realtor Kathryn Keller, a former customer. "It was so radical. The smell of leather and the smell of incense," Keller recalled. "It was so cool to have a pair of Phantasmagoria sandals." She remembers teenagers hanging out and chatting with the employees. "It was a cool place to be."
Customers were college students, business owners, athletes, rockers, trust funders and regular Boulder residents.
The Covells' stores, in various Boulder and Denver locations, became increasingly successful and increasingly upscale. The family remained in Boulder until their son, Joe, finished high school.
Also a history major, Joe now runs the men's department at their Cherry Creek store.
Last year, Joe suggested that his father make up some leather belts for the store, like the old ones.
"At first I thought he was crazy, but the more I thought about it the more intrigued I became," Covell stated. With some apprehension, Covell cut out a leather strip and it all came back.
The retro men's and women's belts, featuring a Phantasmagoria imprint, debuted in the Cherry Creek store last December. Sales took off. Covell was astonished.
"The reaction knocked me out."
Article Originally Published: 12/01/2011 – Daily Camera